Elite door
Current Location:Home -> Scenic Spots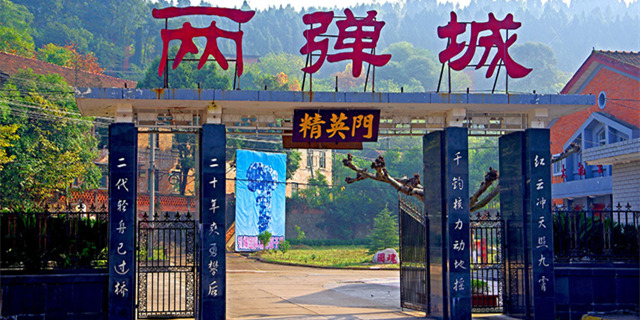 The elite door looks mysterious and solemn. On the posts on both sides, there are four poems inscribed: "the red clouds are shining high into the sky and the thousand jun nuclear force is shaking. After twenty years of brave climbing, the second-generation canoe has crossed the bridge", which was written by deng jiaxin, the "father of two bullets", after the breakthrough of the second-generation nuclear weapon.

Sixteen academicians of the Chinese Academy of Sciences once worked and lived in liangbang city. At that time, these academicians made great contributions to the development of China's nuclear industry under very difficult conditions. Later, in order to remember their great achievements, they named the gate at the entrance of liangbang city as elite gate.

Pass elite door, entered two bomb city. In the past, there were soldiers on guard all over the place and no ordinary people were allowed in, including family members and loved ones.

Even if the leader comes here, also want to pass layer upon layer check. Because the people here were engaged in the most sophisticated nuclear weapons research of the time, the state's top secret.

Xu deheng, former vice-chairman of the National People's Congress, is deng jiaxian's father-in-law. When he heard the happy news of the success of the atomic explosion, he excitedly said to the famous physicist yan jici: "we can make our own atomic bomb. We don't know who has such a great ability?"

Knowing the inside story, yan jici laughed and replied, "go ask your son-in-law!" This shows the degree of secrecy.